I plan to begin traveling with my dog, sometime this year—after I receive my truck camper, a 1500 9.5 Long bed model from BigFoot RV (based in British Columbia, Canada). The camper will be outfitted with a basic solar power system, including 2 solar panels with a maximum capacity of 380W. In order to use the air conditioner or microwave, I'll need to be plugged into what is called "shore power", as though the camper is a boat, although the refrigerator will also run on DC power or on propane.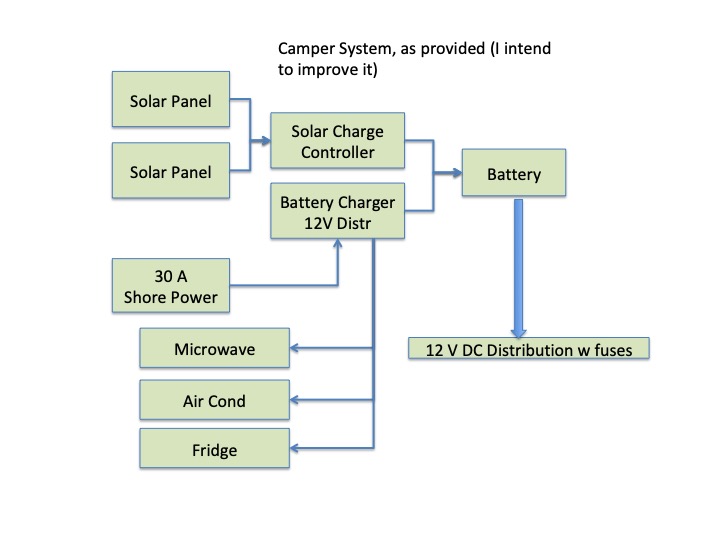 I've been watching online videos from a blogger in Nevada, named Will Proust , and learning quite a bit about solar systems and the products that one can integrate to make a useful system. To experiment, I've also bought some equipment and have begun playing with some of the modules. I plan to put a small off-grid Un-interruptable Power System in my home office, with which I'll experiment and adopt the best ideas into the camper, as well.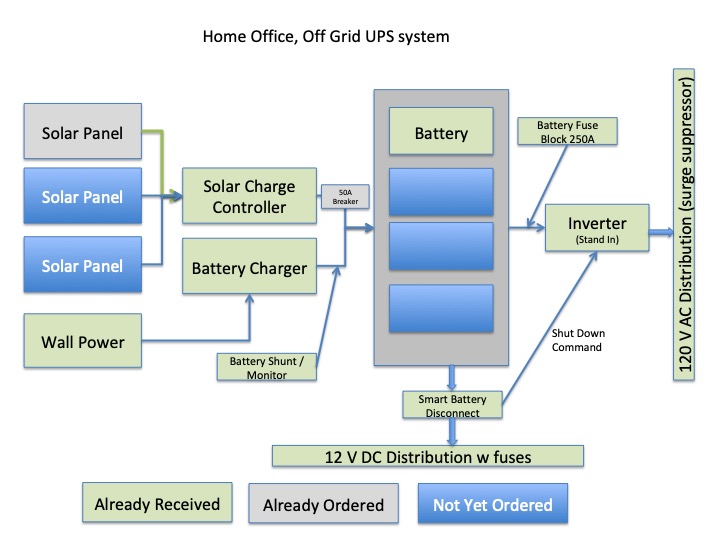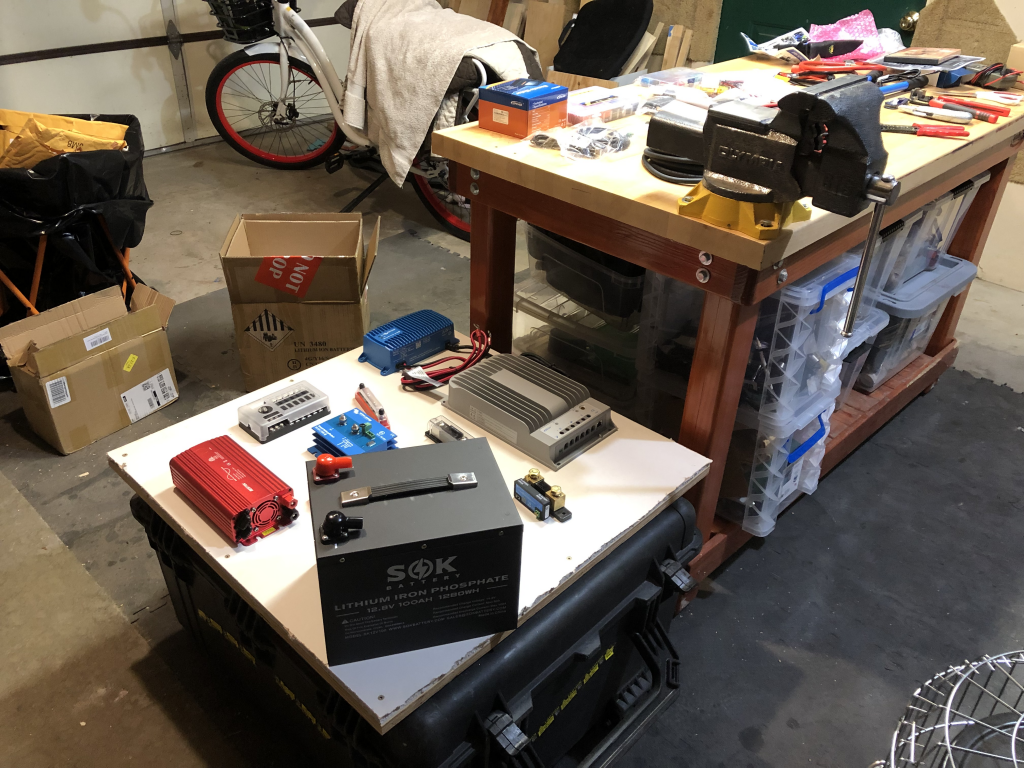 I've bought a 100 Amp-hour battery from SOK, and will be using a very small inverter (500W) as a stand in for larger unit, later. The first solar panel (a 100 W unit for Rich Solar) has not yet arrived, and I'm adding a couple of other things, like pure copper bus bars, which should be here today (Feb 7). The board onto which I'll mount the active hardware is drywall (sheet rock), attached to a square of 3/4 inch plywood. This provides both strength and rigidity (plywood) as well as fire resistance (sheetrock).
I'll provide updates as things progress.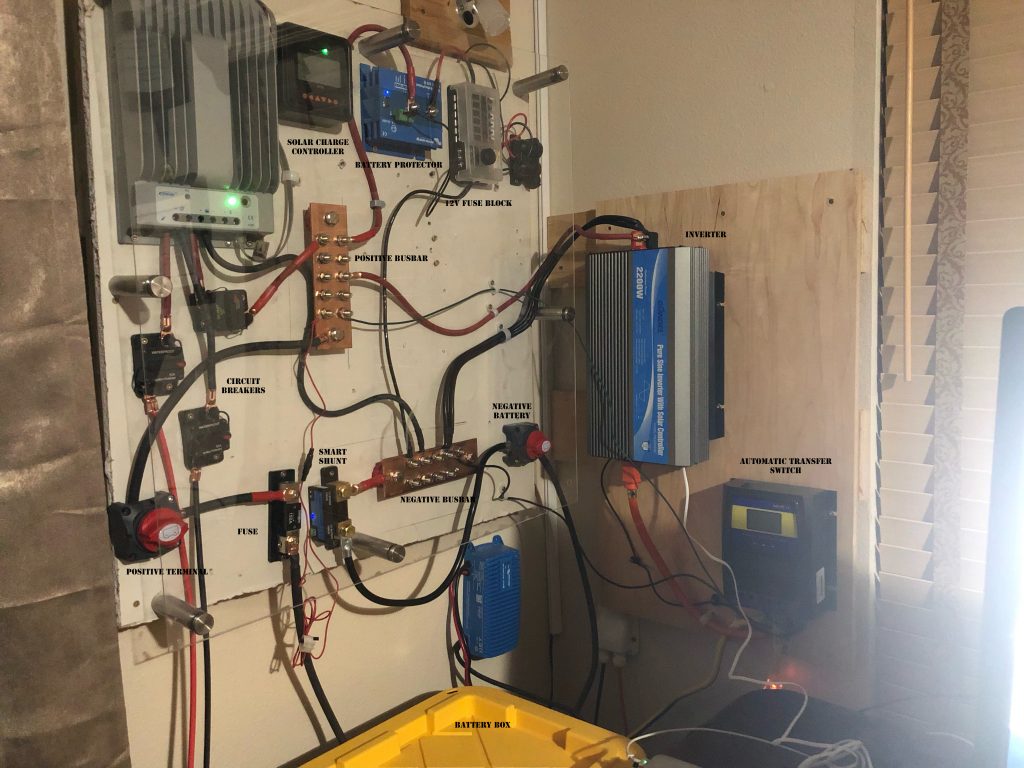 The solar power control wall contains a solar charge controller, as well as circuit breakers and switches to allow me to isolate segments and diagnostic and safety modules. The battery (one for now and 2, later) are in the box with the yellow lid (so I can't accidentally drop something on it), the busbars and so forth are protected from accidental shorting by the plexiglas cover on 4-inch standoffs, The 2200W inverter is mounted on the adjacent wall, and that is connected through an automatic transfer switch, which can switch between stored energy and the grid utility (if the battery is getting low. The switch time is on the order of 10 milliseconds, so the equipment is not disturbed. This powers my computer and the wifi and optical model and associated hardware. The wite cord is for a remote switch for the inverter. The system gets power from 2 solar panels mounted on the roof, just past the wall. Each panel can provide up to 200W of power. The storage mechanism is a 100 amp hour LiFePO4 battery, which will become 2 or 3 batteries, eventually. The batteries will go with me in the camper, when I receive it, and be in the office when the camper is being stored. I'll replace the single 12V lamp and it's mounting surface later, and the plexiglas panel will be covered with a blackout curtain to block the lights when I don't want to see them. This experiment is to allow me to test equipment and fine tune operating practices for my camper, as well as to act as a solar UPS for my office. I'll dress the cables up better later.
March 21: I've also been running this system to test the energy storage capacity I might need in the camper I've ordered. Based on what I've seen and some of the reading I've done, I decided to begin with 3 batteries rather than the two I initially thought would be enough. I ordered a second SOK battery this morning, so that when the camper arrives with its own LiFePO4 battery, I'll have 4, and 300 Amp-hours (3800 Watt Hours) of stored energy when the batteries are charged. I use approximately 100 watts of power when awake and active on my computer (much less when asleep or away), so this should give me at least 48 hours before having to recharge, and the almost 400W of solar panel capacity should easily recharge the battery(ies) with one day of sun. I'll probably have to modify the panel mounting arrangement to get more of the potential capacity, so they can be tilted up rather than simply being flat on the camper roof.