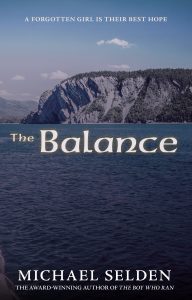 A FORGOTTEN GIRL IS THEIR BEST HOPE
"An Awesome Young Adult Read." —BeachBound Books
A 5-Star Clarion Book  "This morally gray dystopian novel is as thought provoking as it is entertaining." —Forword Clarion Review
"Start of a probing sci-fi series that engages audiences of all ages" —Kirkus Review
See Map & Excerpt from the Book —Below on this Page
 Available in Kindle, Paperback, and Hardcover Editions
Where to Buy the Book
The main character, Phoebe is seventeen, and isolated. Her life is under the constant threat of being discovered by the Council, and sent to the Inquisition because of her debilitating telepathic senses—a lonely life. "She'd lived numerous lives through surrogates already—experienced love and loss, passion and companionship, everything that men and women go through. But she couldn't allow false hope for herself—love was for other people, not her."
THE BALANCE is a Young Adult Science Fiction novel, set in a dystopian future. It takes place almost 200 years after a global thermonuclear war. It is the first of a three-part story.
The Land is ruled by a theocracy—the Council of God—which drove the Order into exile about eighteen years before the story begins. The Order had brought advanced technology from the pre-war past into the post apocalyptic era using self-contained living time capsules.
Phoebe is seventeen, and the last Sensitive to have been genetically engineered by the Order—before they were either killed off or driven into hiding. She doesn't know why she's plagued by the voices, images, and feelings of people all around her. For her, it's a constant struggle just to survive the chaos they bring to her life, and to hide her strangeness from others. In the Land, strange behavior is reported, and those deemed to be witches are sent to the Inquisition. She lives in a harbor town, hiding what she is, protected by her adopted father, Daniel.
The Order hasn't completely vanished. Their ancestors had established Sanctuaries before the war, and the refugees retreated to these hideaways to survive the Purge. Now they're plotting to restore the historic agreement that made it possible for them to share the benefits of an advanced civilization with people in the Land, and to co-exist with the Council.
Their leader, a genetically-engineered Prescient, is aware of Phoebe, but has largely left her alone. Now he sees danger coming for her, and he also has visions that she might hold the key to a path that would help them reestablish the agreement they made with the Council, an agreement called The Balance.
A note on reading The Balance. The Balance is the first part of a 3-part story—a trilogy—and as the first it bears the brunt of the work in building this new world where the story takes place. As a consequence, it starts out more slowly than some books, but if you have a little patience and read through this you will be rewarded with a good story that makes sense, because you'll understand how it fits together.
This is a map of the known world, after the nuclear destruction. The story of The Balance takes place in "The Land".
Below is an excerpt from The Balance.
A Few Terms from the book:
Future Man Project: a long term Order effort to improve humans through genetic engineering, selecting and amplifying the valued characteristics. The objective was to make war obsolete—even unthinkable.  The ultimate intent was to reintroduce these amplified characteristics back into the general population.
There are essentially three main Future Man Programs: the Healer, the Prescient, and the Sensitive.
The Healer: the first program started and the first to yield significant results. The healer program sought to create beings with a powerful immune system that rejected disease and even mutation. The healers would be both universal blood donors, as well as universal recipients. Recent medical research has developed a drug that can cause this and I extrapolated that the genes to cause this same thing were possible. The healer can accept blood and tissue from diseased person and their immune system will generate a cure for the sick person. Their blood and certain bodily tissues then become a treatment for them. In the Land the general term for the healer is Blood Healer, although healers were also developed to be able to sense and categorize disease as well, and their saliva can be used to treat wounds.
The Prescient: The prescient was developed with enhanced intelligence and the ability to "see through time". Although predicting the actual future is impossible, the Prescient can see possible futures, and their vision works in several different modes, some of which only predict patterns of behavior, while others can see every possible future for an individual, although only over a limited timeframe. This is explained more fully in the book.
The Sensitive: Sensitives were developed to connect with other people telepathically, and this connectivity was further enhanced until they sometimes lost themselves in other people's lives—becoming that person. There were essentially three stages of Sensitive developed. The first stage was based on selective breeding of people who exhibited unusual sensitivity to others, as the genes responsible for telepathic links were isolated for future enhancements. The second stage—Stage 2 Sensitives—benefitted from enhancing the genes and developing new similar genes to those naturally occurring, and by selective breeding of stage 2 Sensitives. Stage 3 Sensitives continued this process, but were also modified during gestation to enhance their telepathic power and range. Their brain was altered and neural pathways were grown throughout their bodies, acting like antennae, to amplify the connection strength. There were also multiple bloodlines of Sensitives, some exhibiting additional or different abilities. By the time the story starts these had been consolidated until there were only two bloodlines left.
Although I've gone to the effort to develop each program characteristic—and my unpublished backstory is much deeper with more detail—this isn't really, or strictly, a story of abilities and powers. It the story of a lost girl trying to deal with abilities she doesn't understand. Phoebe wants to be normal and she has no idea why her brain is so strange, because—by the time the story starts—she is the only remaining product of the Order living under Council rule. The Council is The Council of God, a well-meaning but intolerant society that would kill Phoebe if they knew she existed.
The story of The Balance would seem to pit a secular society versus a religious one, but that was never intended. Nor was either organization made up of all bad or all good people—the story is much more nuanced than this, as are most people.
Genres Spanned by The Balance: Young Adult, Science Fiction, and Dystopia
Just a quick note: I've already written a few chapters of the second part of The Balance, which will be called: The Balance: The Wastelands and the Wilderness. I'm writing it in parallel with , although more slowly than, Bosworth. At times it's good to have a second work in progress. The second part of the story might be more "New Adult" although all of my books span audiences.
Comments? Questions? Click HERE to access a blog on The Balance
 Reviews:
Forword Clarion Review (5 Stars) Excerpt:
"This morally gray dystopian novel is as thought provoking as it is entertaining."
"Michael Selden's The Balance is an intelligent and engaging story about Phoebe, a psychically gifted teenager living under the rule of a strict theocracy. She is contacted in her dreams by her mother, who she thought was dead, and starts down a path of self-discovery, trying to learn more about her past and her powers. Her life, however, may have more significance than she understands. As her abilities grow she is unknowingly led toward a destiny that may change the entire world."
. . .
"The Balance is a highly creative, thoroughly enjoyable book. The author leaves plenty for his characters to do in the next book, and will leave young fans anxious for the next installment."
To read the complete Forword Clarion Review on their web site Click Here
__________________________________________________
BeachBound Books Review (5 Stars) Excerpt:
The Balance is an awesome young adult read. There is a little something for everyone with science, suspense, and even a bit of romance. Michael Selden is an award winning author and his talent shines through in his newest novel. The story is well put together with skillful writing and believable characters. The ending was so intense that I was on pins and needles . . . Kudos to the author for another well written captivating read.
I highly recommend picking up a copy of The Balance.
___________________________________________________
Kirkus Review Excerpt
. . .
"He [Author Selden] paints her world in swift, dismal strokes: "The future had taken a back seat and become a kind of mythological concept." Later, a character who can see future timelines learns that Phoebe's chances against the Council are shrinking; the conclusion—"When choice disappeared completely, it meant death"—is intriguing commentary on tyranny, religious or otherwise. Elsewhere, Selden writes that "Advances in science…democratized destruction," reminding readers that religion and technology are both tools and that humans choose to be good or evil. The clever framing sequence points directly toward a second volume.
Start of a probing sci-fi series that engages audiences of all ages." —Kirkus Review
Excerpts from Amazon Reviews
"An excellent read! Will appeal not only to young adults, but to adults as well!"  —DiMaster
"This story combines the best elements of HANDMAID'S TALE, HUNGER GAMES, BRAVE NEW WORLD." —J. Wald
"The Balance was a well written book, it took me a little while for the book absorbed me but once it had i couldn't put it down."—Marie McCraney
The Balance is the first of a 3-book series – thank goodness! The book started off slightly slower because there was significant world building to create, it would be a shame to not expand upon that! I really enjoyed The Balance, it is tagged as a Young Adult novel because the main character is in high school, but it is not a book about young adults, it is a story of a new world and the order and chaos that ensues, it is a story of family, love, and sacrifice, and it is a story of political machinations against an unwitting public. It's just a darned good story. —Dawskimo
AMAZON Customer Reviews (LINK)
Author's Note:
The Balance is my favorite child to this point. I spent more blood sweat and tears on this book than on any  of my other works thus far. The first draft took me 6-weeks to finish at its original 85K word length in 2011, but then it grew to 150K words over time. I worked with no fewer than 4 editors and rewrote the book several times before it took a form that I thought was good enough to publish, which I did in 2015 (at 109K words). In the meantime I wrote and published The Boy Who Ran and started I AM and DISOBEDIENCE. I've begun part 2 of the book, but the primary work I'm laboring over these days is BOSWORTH, and I'm working on Part 2 if I get stuck for a while. When BOSWORTH is done, I'll polish and publish The Balance Part 2: The Wastelands and the Wilderness. In the meantime, I've pushed DISOBEDIENCE off and into times position 6. I still have more research to do on that book, this time in Provence, France.
Thank you for visiting. Please share my site with your friends.