Kindle and Paperback Editions Now Available
From Jenny's Diary, Friday, March 12
"I'd never thought about it, the end of the world. Nor had I imagined that I'd have to face it in my own lifetime. This past year I've been so busy trying to get through each day without thinking about what happened last October. But the universe doesn't care about our little problems. It has its own way of deciding things—and I've come to understand that the universe is a much stranger place than I'd ever realized before."
Jenny Baker thought that life was all mapped out for her. A junior in college, she studies physics and lives at home in the college town of Long Lake, West Virginia. She and her boyfriend, Jake, have been together since they were both freshmen in high school—everyone assumes that they will get married when they graduate.
On October 1, 2020, her life is shattered. Tragedy strikes and, depressed, Jenny drops out of school to take an internship at the university's observatory, located in the Appalachian Mountains. There, she discovers a comet, destined to end all life on Earth. "I AM" follows her struggle for a sense of normalcy, and takes her on a journey of self discovery.
"I AM" is a Science Fiction novel, written for a New Adult Audience. It spans about one year of time and takes place just a few years from now. The Comet, "Dark Traveler" has an unusually low albedo—it's very dark, almost invisible, and has been following a hyperbolic orbit from the Oort cloud.
The Oort cloud is a massive collection of debris that orbits the sun.  The web site Space Facts has a nice description of the Oort cloud. Wikipedia also has a nice description.
A note on technical content: This is a realistic Science fiction story, which means it has a lot of hard science packed into it as well. In fact, one astronomer said it brought him back to the days when he was at the university, studying to be an astronomer. The author was a research physicist for almost 30 years and spent time at observatories, testing technology developed to help extend our understanding of science.
A Brief Excerpt from the book is provided below.
 How to Get a Copy:
The Kindle and Paperback Versions are now available

Also Available from the Kindle Owners Lending Library & Kindle Unlimited for Prime Memebers
Genres Spanned: Science Fiction, #SciFi,
Audience: New Adult, #NA (and Older), Young Adult (and older)
Additional Information
Thanks to Warner Brothers for supporting me in the use of a quote from the cartoon Quickdraw McGraw
The observatory and its site, as described in the book, is  an amalgam of different observatories  I had experiments in, visited for work, or which my team developed. These include:
The 48-inch facility at Goddard's Geological and Astronomical Observatory in Greenbelt, Maryland—owned and operated by NASA;
The FortDavis Observatory, near Fort Davis Texas—run by the University of Texas;
The Matera Laser Ranging Observatory, located at the Italian Space Agency's 'Centro di Geodesia Spaziale G. Colombo' (CGS) near Matera, a small town in the South of Italy.
Chapter-by-chapter position updates for the comet
As the the book progresses from chapter to chapter, dates and the current position of the comet (in Right Ascension, Declination) is shown. These use the Jan 1 2000 epoch coordinates—RA, Dec can vary as time goes by, because the direction the axis of the earth varies along a circle with a period of about 26000 years. The star that is closely aligned with the axis changes over time, too, but slowly. The diagram below (From Wikipedia) shows the RA, Dec coordinate system, which is based on a reference when the sun crosses the equator at the vernal (March) equinox. At this time, as the sun seems to cross the equator, a point of 0 hours, 0 minutes, and 0 seconds is set. To view any object in the sky, you need to understand how far away it is around the Earth from this zero point. The 360 degrees in angle are converted into 24 hours of time, so that you can use a clock to understand where to point. As the year progresses, the sun's declination changes with the season from between -23.5 degrees (Winter Solstice) to +23.5 degrees (Summer Solstice). In a similar way, the axial tilt of the earth shows up as a changing declination angle throughout the year, and the position varies by season and as the wobble angle of the earth's axis changes a little on it's almost 26000 year cycle. RA / Dec is used at observatories to understand where an object is in the celestial sphere and then this is transformed into an azimuth and elevation angle for each telescope, based on their location on Earth and on the orientation of the telescope itself.
The comet has been placed in a real theoretical orbit, it's angle with respect to the eclectic (the plane of Earth's orbit around the sun) and with a set date and time of closest approach to the sun. I use a hyperbolic orbit (eccentricity >1). The book tracks the apparent position as Jenny moved through the months of the book.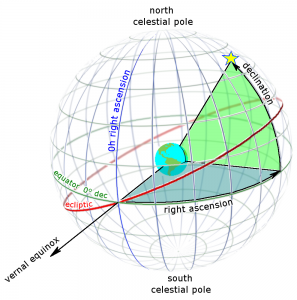 I did a quick sketch of a telescope optical schematic to show the kid of telescope described as being used by the characters in the book. Putting a picture at the end may help the reader understand what the telescope looks like, from a functional point of view. This sketch may change slightly before publication.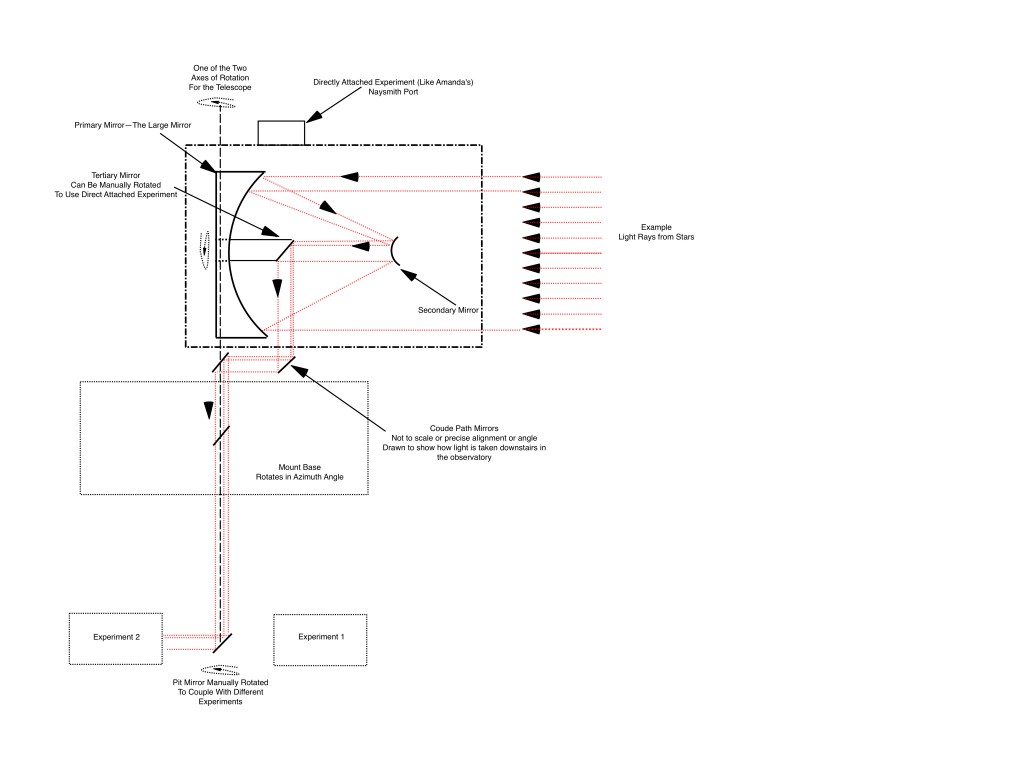 Other Books by Michael Selden:
Noter: Kindle Editions of Selected Novels by Michael Selden are Discounted from Nov 26 to Dec 3
Some Discounts are Available on Amazon.com (US) and Some on Amazon.co.uk (UK) Check the Site Applicable to You to check for deals.
BOSWORTH—For Young Adults, Older Middle Grade Readers and Adults
Click Here to Read More About Bosworth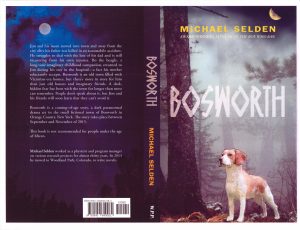 Jim and his mom moved into town and away from the city after his father was killed in an automobile accident. He struggles to deal with the loss of his dad, and is still recovering from his own injuries. A long-time imaginary childhood companion, Bo the beagle, returned to him during his stay in the hospital—a fact his mother accepts but wants to change. Bosworth is an old town filled with Victorian era homes, but there's more in store for him than just old houses and imaginary friends. A dark, hidden fear has been with the town for longer than most can remember. No one speaks about it, but Jim and his friends will soon learn that they can't avoid it.
Bosworth is a coming of age story, a dark paranormal drama with a dash of  the psychological. It's set in the small fictional town of Bosworth, in Orange County New York, and takes place between Sept and Nov 2015. It was released March 15, 2017.
Warning: Although this book has middle grade themes, it is a dark story and touches on a rather sensitive issue. Nonetheless I've been assured that it is suitable for MG audiences (and older). All books are written so a general audience will appreciate the stories.
THE BALANCE—For Young Adults and Older (A Clarion Foreword Reviews 5-Star Book)
The Balance is one possible future. A dystopian land that survived World War 3
Phoebe lives in a world governed by the church—a multi-faith theocracy run by The Council, and she must live a lie to survive.
Click Here to Read More About THE BALANCE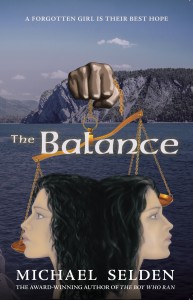 People in the Land survived the world war only to have their lives disrupted again by a wayward asteroid that broke up to rain down on the planet. This second tragedy disturbed the power-sharing arrangement that had helped rebuild the Land, under an agreement called The Balance. Council leadership exploited the chaos to drive the Order into exile, and then began banning the use of most modern technology, long blamed for the war. Phoebe is the last remaining product of the Order's genetic engineering programs still living under Council rule.
Phoebe doesn't understand why she's so different from everyone else, and she struggles to survive, trying to hide what she is.
The Boy Who Ran—A Middle Grade Novel for Kids and Adults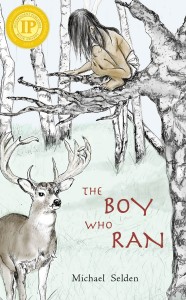 The Boy Who Ran, Middle Grade novel, and winner of the 2014 Independent Publisher's Book Awards Gold Medal for Juvenile fiction, is a parable set 6000 years ago in North America. It's the story of a young boy whose village was massacred and who escaped by running into the forest. He was taken in by another village, but has never been able to cope with what happened and this has affected his relationship with others in the village. The story follows him one late summer as he tries to overcome this disability and find a place in the world. An audio edition of the book was produced in 2016.
Thank you for visiting. Please share my site with your friends.