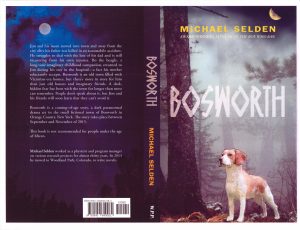 BOSWORTH, A Coming of Age Paranormal Drama
Jim and his mom moved into town and away from the city after his father was killed in an automobile accident. He struggles to deal with the loss of his dad, and is still recovering from his own injuries. A long-time imaginary childhood companion, Bo the beagle, returned to him during his stay in the hospital—a fact his mother accepts but wants to change. Bosworth is an old town filled with Victorian era homes, but there's more in store for him than just old houses and imaginary friends. A dark, hidden fear has been with the town for longer than most can remember. No one speaks about it, but Jim and his friends will soon learn that they can't avoid it.
Bosworth is a coming of age story, a dark paranormal drama with a dash of the psychological. It's set in the small fictional town of Bosworth, in Orange County New York, and takes place between Sept and Nov 2015.
Where To Buy BOSWORTH:
A sample from the book, BOSWORTH:
The book's Status: Available from Ingram's LightningSource now, and should be available on Amazon in both paperback and Kindle editions by March 18
BOSWORTH incorporates and adapts a few of the historical legends from the Lenape People, An extensive Native American Community from the East coast, extending from parts of Connecticut through Pennsylvania. The pages attached to these links provide more information about the Lenape People.
Current Book Status: Released
People who are contributing to the book publishing project:
Michael Selden, Author
John Hudspith, Editor
Jamie Kerry, Interior Design and Cover Layout / Design
Paola Sbriccoli, Cover Image and Alpha Reader
Amanda Wysocki, Alpha Reader
Chip Cheek, Proof Reading
Paperback Edition Printing and Distribution by Ingram / LightningSource
Kindle Edition Publishing through Amazon