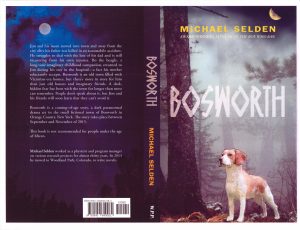 BOSWORTH, A Coming of Age Paranormal Drama
Jim and his mom moved into town and away from the city after his father was killed in an automobile accident. He struggles to deal with the loss of his dad, and is still recovering from his own injuries. A long-time imaginary childhood companion, Bo the beagle, returned to him during his stay in the hospital—a fact his mother accepts but wants to change. Bosworth is an old town filled with Victorian era homes, but there's more in store for him than just old houses and imaginary friends. A dark, hidden fear has been with the town for longer than most can remember. No one speaks about it, but Jim and his friends will soon learn that they can't avoid it.
Bosworth is a coming of age story, a dark paranormal drama with a dash of the psychological. It's set in the small fictional town of Bosworth, in Orange County New York, and takes place between Sept and Nov 2015.
Where To Buy BOSWORTH:
A sample from the book, BOSWORTH:
The book's Status: Available from Ingram's LightningSource now, and should be available on Amazon in both paperback and Kindle editions by March 18
BOSWORTH incorporates and adapts a few of the historical legends from the Lenape People, An extensive Native American Community from the East coast, extending from parts of Connecticut through Pennsylvania. The pages attached to these links provide more information about the Lenape People.
Current Book Status: Released
A fact or two: Although there is no such town as Bosworth NY, I placed the fictional town at a Lat, Long position and then researched and used the actual weather patters from the timeframe of the book on a day by day basis. This applied to sunrise and sunset and the lunar phases and rise / set times, as well as the directional angle of the moon.
Another fact: as a boy, I lived in several of the places where Jim lived growing up—I was an Air Force brat.—although I've never lived in Oklahoma.
Initial Reviews (Copied from GoodReads and Amazon)
This is a brilliant, imaginative and beautiful coming-of-age story, the type that used to be released in droves during the early 1990's but sadly which have started to die down. Bosworth holds onto a classic style but will still appeal greatly to modern readers, especially middle-grade readers.
This is also a great dog story, and the dog in question is one of my favourite literary devices – an imaginary friend. Jim has made him up in his head despite his mother's vague disapproval. The book is set in an eerie small town setting and it's all very supernatural in nature. I loved the author's originality, the poignant depth and the way in which he has written a book to appeal to all ages, both children and adults. Bosworth is as much about grief, loss, adventure and friendship as it is about the paranormal. Ultimately Jim's distance from his mother and the sudden loss of his father has left him questioning the world in general. I loved the Orange County setting, the capturing of quaint small-town New York in all its natural wonder.
Bosworth is a stunningly creative book and I would definitely recommend it to any reader, especially fans of middle-grade, coming-of-age, supernatural/paranormal, psychological or animal story genres.
****
SPOILER WARNING:
Goodreads giveaway, and I was super excited to have done so. The premise and the Beagle on the cover drew me to it, and I was so certain that I would love it. As it happens, I was spot on! This book takes on mental illness in such a magical way. For Jim, our main character, it's not (or at least not all the time) something frightening or something that is to be feared. It keeps him safe and keeps him company. There's a big bad in this that I'm almost sure could come back into a sequel, and I would be so into that! I was enraptured with Bo, the 'dog', who seemed to be an almost angelic presence. I loved all of the characters, living and dead. I couldn't put this book down because I HAD to get to the end. I didn't want to leave Jim and Allie's side for one minute. Thank you, Michael Selden, for sharing this story with us, and for giving away free copies of the book! I will be reading more of your things, for sure!
From a reader in the UK
Wow.
Michael Selden is a great writer. This book is fast paced with a great story-line. The characters are well-rounded and feel real, I particularly liked Jim and his 'dog' Bo. Jim is damaged, but not broken; being different from other people in any way isn't easy whatever age you are. He has an awful lot going against him that teenagers – who, like adults, can be vicious – would use as a weapon to keep beating at him. Yet he copes with it admirably, up to a point. I'm not going to put in spoilers if I can help it, so I won't say what happens, as I hate that myself. Suffice to say I understand exactly what happened and why – and know several people who would react in exactly the same way, perhaps that is what adds to the feeling of realism for me.
I love the way Michael Selden shows the reader the town, the world, in which the story takes place. He gives sufficient information for me to be able to picture the town and characters in my head, but doesn't go over the top and give unnecessary description. There is an element of other life forms and energies in the novel as well as some rather dark actions by humans – some of the unpleasantness is by the teenagers, though the worst actions are committed by adults. It is quite dark at one point and fairly creepy in several. The author does get the balance of all those elements right for me, making it an interesting read – I sped through it in less than 24 hours because I couldn't put it down.
It's a book that I would have no hesitation in recommending to anyone. The characters are in the last year of American middle-school, so I guess that's around age 14. I not only would have loved this book at that age, but love it now at my age.
I studied children's literature, including young adult literature, as part of my last degree and have been of the opinion since then that books aimed at the under 25s are often far better than those aimed purely at adults. This book proves my point. For some reason there is a snobbery, an elitism, in literature circles that tends to look down on both populist literature and those aimed at young people; those who do this, who automatically dismiss things outside their narrow-minded view, are missing out on some fantastic story-telling. I'd love to see this one as a movie, if I'm honest, because I think it would make for an interesting and entertaining film.
From a Reader in India:
There could be nothing better than a book which features a dog.
Jim is an ordinary boy with an extraordinary destiny. Losing his father in an accident, spending too much time in hospitals and moving to Newyork with his mother has definitely affected his mind.
Doing the rounds of the hospital, he soon starts to see his imaginary friend, Bo the Beagle. His mother disapproves of his existence but for the sake of Jim, she accepts eventually. Soon the paranormal activities start to happen and we stumble upon a great coming of age story.
Your fears come to life.
One fascinating thing about the book was that although it had a classic touch to the writing, modern readers will enjoy it to the fullest. Fast paced and well knitted story. This is the forte of Michael Selden. He binds his readers with a magic spell. I loved his concept and writing.
I would recommend this story to anyone and everyone.
People who are contributing to the book publishing project:
Michael Selden, Author
John Hudspith, Editor
Jamie Kerry, Interior Design and Cover Layout / Design
Paola Sbriccoli, Cover Image and Alpha Reader
Amanda Wysocki, Alpha Reader
Chip Cheek, Proof Reading
Paperback Edition Printing and Distribution by Ingram / LightningSource
Kindle Edition Publishing through Amazon